MBR Sewage Treatment Equipment
Brand Xuridong
Product origin China
Delivery time 15 days
Supply capacity 100 units
MBR Sewage Treatment Equipment is an integrated sewage treatment and reuse device designed and developed by our company.With the international advanced technology of our company core competitive development using the same anti pollution MBR film,to fill the domestic blank,and established dozens of large-scale demonstration projcets,is the best technology to implement energy conservation and efficiency expansion.MBR Sewage Treatment Equipment have been exported to the United States,Austrlia and other developed countries,including the international markets,and achieved very good environmental and economic benefits
MBR Sewage Treatment Equipment
Function & application

---
Membrane bioreactor (MBR) is a full and automatic domestic and organic wastewater treatment system, which combines membrane separation technology and bio-technology, no secondary sedimentation tank, including filter, storage, anaerobic chamber and aerobic chamber, and disinfecting chamber and clear water chamber.
It is a compact, self-contained, and factory prefabricated, with the capacity of treating 1-50m3/h, depending on your unique opinion.
Apply to hotels, restaurants, nursing homes, hospitals, schools, shopping malls, residential area, dock, station, airport, villages and towns, factories, mines, attractions, scenic spots and all kinds of industrial organic wastewater or sewage treatment.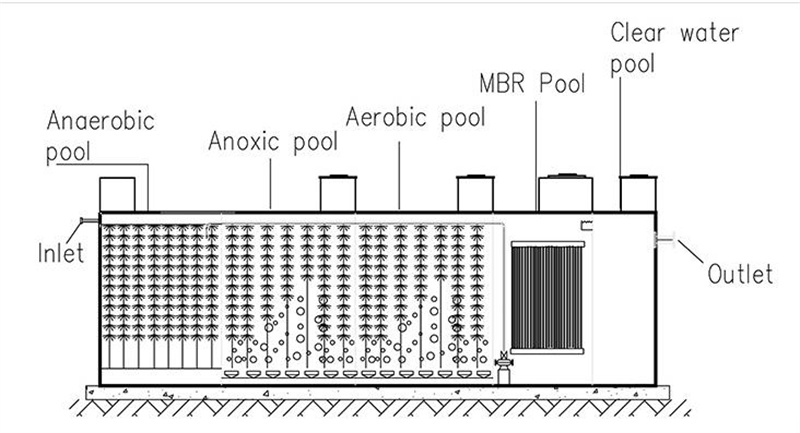 Application:
---
(1)Upgrading and transformation of the original sewage treatment plant and water supply plant
(2)New construction of municipal sewage treatment plant and water supply plant
(3)Pure water production pretreatment
Water reuse
(4)Domestic sewage treatment and reuse in hotels, restaurants, and communities
(5)Domestic sewage reuse in industrial and mining enterprises, remote rural areas, outposts, and tourist attractions
(6)Various industrial waste water which similar to domestic sewage (hospital waste water, medical waste water, washing waste water, food waste water, cigarette waste water, etc.)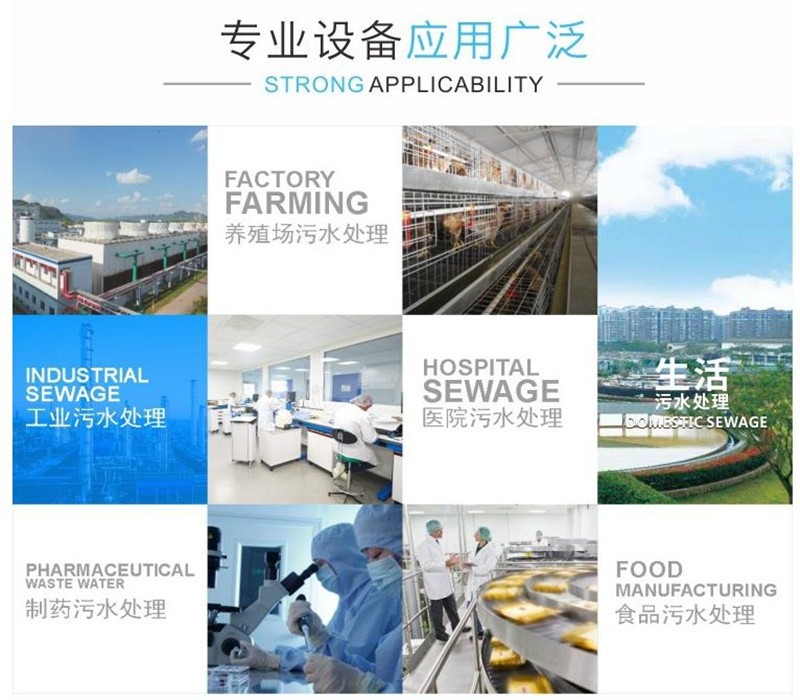 Feature & benefit
---
1. Small footprint and less construction cost , the installation period is short.
2. Running automatically and management easy.
3. Low energy consumption and maintenance cost.
4. Non-secondary-pollution cased during the whole treatment process
5. The treated water can be reused (used to wash toilet , green water , wash the road , wash car , landscape water ,etc ) , save running water fee.
Technical specification
---
SPECIFICATION

MBR-12T

MBR-15T

MBR-20T

MBR-25T

MBR-30T

MBR-35T

Standard filter area(m2)

12

15

20

25

30

35

Design Flow (L/h.m2)

10-30L/m2.h

Recommended Flow (m3/day)

2.5-3.5

3.0-4.5

4.0-6.0

6.5-7.5

6.0-9.0

7-10.5

Length x width (mm)

1250x525

1400x525

1850x525

2200x525

2200x825

2200x825

Material of Membrane

Reinforced PVDF (Polyvinylidene fluoride) hollow fiber

Diameter of Hollow fiber

0.8/2.0mm or 1.0/2.4mm

Longitudinal Breaking force

> 200N

Filtering Path

Outside-In, discontinuous filtering + continuous air scouring

Pore Size (μm)

0.02~0.04μm ( output<0.5 NTU)

Temperature

5-40℃

PH

2~10

Max.Operating Negative Pressure

-0.06Mpa

Trans-mem Pressure (TMP)

≤ 0.06Mpa

Recommended Negative Pressure

-0.01 to -0.04 Mpa

Recommended Backwash flow

30-80L/m2.h

Continuous chlorine resistant

200ppm

Discontinuous chlorine resistant

500ppm

n-Hex resistant

<3mg/L

lifespan(after installation)

3-5years.

Storage

Dry Form, 1year
Services
---
Offering comprehensive technical and business consultation services;

Proposing the most suitable scheme and equipment for our clients;
Designing and fabricating targeted products according to the special requirements of clients;