What is a DAF used for?
21-07-2021
Dissolved air flotation machine is mainly used to deal with industrial sewage and wastewater. It can also deal with urban domestic sewage, mainly remove BOD, COD, and algae collection in sewage. Air flotation machine is widely used in industrial sewage treatment, such as electroplating wastewater, leather wastewater, urban sewage, papermaking wastewater, printing and dyeing wastewater, slaughtering wastewater, oily wastewater and so on.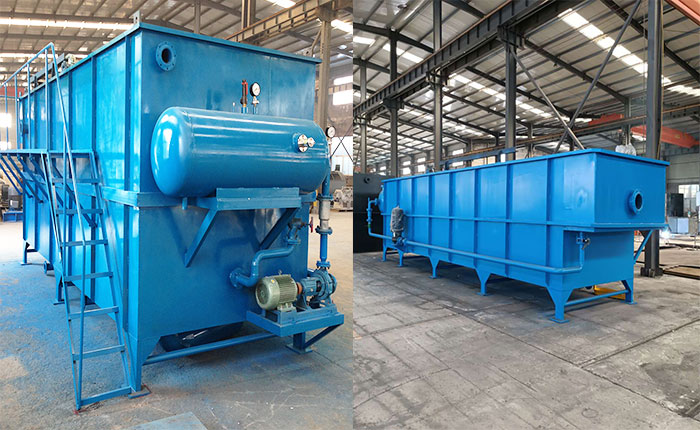 1, Electroplating wastewater and heavy metal wastewater,Dissolved air flotation can choose adsorption colloid flotation method to deal with, after processing can satisfy.
2. Leather wastewater and urban domestic sewage: the removal rate of CODcr, BOD5, TSS, FOG, sulfide and total chromium is above 95% when treating the comprehensive leather wastewater by biological method of DAF, which can reach the reuse standard.
3. Papermaking wastewater: after treatment, the removal rate of BOD, COD, SS and TP in papermaking wastewater is high after the vortex concave air flotation machine and coagulation sedimentation, and the effluent quality reaches the first standard of papermaking wastewater discharge. The effluent color is low and clear and transparent, can be used as process backwater.
4.Printing and dyeing wastewater: adsorption gas flotation method can remove cationic dyes, direct dyes and acid dyes, decolorization rate is high, wide adaptability.
5. Oil-bearing wastewater: the oil-bearing wastewater of emulsion was treated by air flotation method, and the COD and SS after wastewater treatment were lower than the GJ discharge standard.